The company supplies steel and related services to the construction, automotive, packaging, mechanical engineering and other demanding markets worldwide.
At Tata Steel , Stocksbridge Halcyon Drives were asked to provide an Inverter Panel to control a 132kW Scarfer Exhaust Fan motor. The following requirements were specified by the Engineers at Stocksbridge:-
To replace existing damper controlled Scarfer Precipitator Fan Control Panel
Panel would be mounted outside, open to year round climatic conditions
Save energy by utilising the cube law for Centrifugal fans.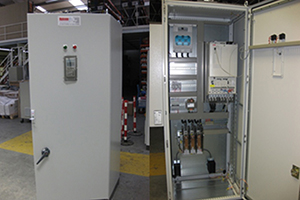 In 2009, Halcyon Drives, designed, supplied and commissioned a suitable Control Panel. The panel has IP 55 protection, with internal thermostatically controlled heaters to prevent condensation and side panel mounted air/air heat exchanger, for dispersing heat generated from the inverter and protection for high ambient summertime ambient temperatures. The Inverter is an ABB 132kW ACS800-04-0165-5, 500 volt supply Industrial Drive and is programmed to accept two external signals each selecting a pre- set speed in the inverter. One is set at 30% and the other at 100% motor speed.
The benefits to Tata Steel are:
Better control options
Reduced reactive power
Lower Maintenance costs
Energy saving in excess of circa £9700 per annum
Circa 82500 kg of CO2 per annum saved
Circa 165,000 kWh saved
Return on investment less than one year
NOTE:- These savings are Stocksbridge's projected figures.
If you would like further information, please contact us or phone 0113 2631509