SC300 Hand Detection Safety Sensor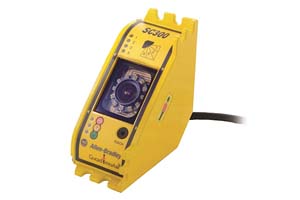 The Allen-Bradley® Guardmaster® SC300 is a Type 3 vision-based protective device designed for use in a variety of machine guarding applications.
This latest addition to the Rockwell Automation® safety opto-electronic product family is targeted to light and medium industrial machine guarding applications which have a square or rectangular frame in front of the hazardous area and an environmental rating requirement of IP54.
The sensing function is performed by the SC300 viewing a two-dimensional image against a passive pattern as the background. The detection principle is that the view of the pattern is blocked by an object of the appropriate resolution (24mm or 30mm).
Features
Compact die-cast aluminum housing is designed to be mounted to the inside of, or to the side of a frame
Angular field of view of 110⁰
Automatic alignment
Two SC300s installed back to back with synchronization inputs connected doubles the maximum opening dimension
No software required to programmonitored opening area
cULus recognized, and CE marked for applicable directives
PLd (EN ISO 13849), SIL2 (IEC 61508), Type 3 (IEC 61496), Category 3 (EN ISO 13849)
Suitable for Category 3 machine guarding applications
Horizontal or vertical mounting
Integrated EDM, ReStart/Reset and Teach-in
Rockwell Automation Guardmaster™ safety product