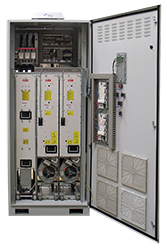 To support our comprehensive stock range of ABB Drives, Halcyon Drives have an extensive fleet of Inverter Drive Units available for hire, ranging from 18.5kW to 400kW
Enjoy the benefits of an ABB Inverter Drive Hire from Halcyon
Do you have an inverter breakdown?
Need to resolve critical process downtime issues?
Prove energy savings before committing yourself?
Reduce development costs?
Reduce the risk of investing in a new, unproven system "Try before you Buy"?
No need to commit to capital expense where a hire drive may be a more cost-effective solution.
Why choose Halcyon Drives for your inverter drive hire?
Inverters are being used to control many critical applications and production line downtime costs due to inverter drive failure can run into the hundreds of thousands of pounds; more serious concerns arise where the health and safety of people are directly affected. Hire an ABB inverter drive from Halcyon Drives and we can arrange for the hire drive to be delivered the same day to get your processes running again.
All our hire drives come fitted with a keypad for easy set-up on site or alternatively, you can have one of our fully qualified engineers attend site to install and configure the hire drive for you. If the hire drive is for temporary replacement of a faulty unit, our engineer can bring your inverter back for full testing and repair in our dedicated drive repair workshop or replace with a brand new ABB inverter drive as necessary. We can arrange for our engineer to return to site and exchange the hire drive with your fully repaired/replacement inverter drive.
Flexible short to long-term inverter drive hire available to meet your needs. With a minimum short-term hire period of just one week you can save money hiring your drive from Halcyon Drives to cover short breakdowns or testing periods.
Optional extras for Halcyon hire drives:
UK nationwide delivery & collection available with optional sameday delivery (subject to availability).
Flying leads also available for hire, allowing easy connection of the hire drive.
Pre-programming of hire drives to your requirements before despatch for immediate use.
Support from our fully qualified engineers who can guide you through your on-site installation and set up.
How to hire a drive
Contact us on 0113 2361509.
Advise type of application.
Decide on kW required or advise existing motor power.
Advise electrical supply.
Can you install & commission or do you require Halcyon to include this service?
Delivery same day or a time to suit you.