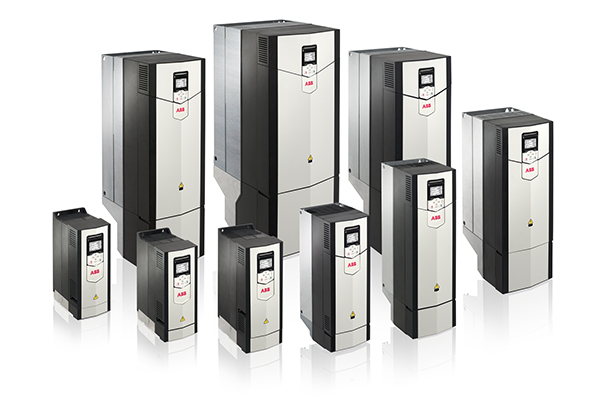 Power range: 0.55 to 250 kW
Supply voltage:
3-phase, UN2 = 208 to 240 V, +10/-15%
3-phase, UN3 = 380 to 415 V, +10/-15%
3-phase, UN5 = 380 to 500 V, +10/-15%
3-phase, UN7 = 525 to 690 V, +10/-15%
The ACS880-01 wall-mounted variable speed drives are designed on ABB's common drives architecture. The complete ACS880 range are customized to the precise needs of industries such as oil and gas, mining, metals, chemicals, cement, power plants, material handling, pulp and paper, sawmills and marine. They are designed to control a wide range of applications including cranes, extruders, winches, winders, conveyors, mixers, compressors, pumps and fans. The drive comes in nine different frame sizes (R1 to R9) for easy installment and commissioning.
At the heart of the drive is direct torque control (DTC), ABB's premier motor control technology. The extensive range of options include EMC filters, encoders, resolvers, du/dt filters, sine filters, chokes and brake resistors, as well as application specific software. Built-in safety features reduce the need for external safety components.
Multiple drives can be daisy-chained for synchronized drive-to-drive communication. The drives offering includes enclosure classes IP20, IP21 and IP55 for dusty and wet environments.
The type approved ACS880-01 marine drive, provides advanced reliability and availability at sea. The drive fulfils marine and offshore requirements and the design and operations have been tested according to marine type approval requirements. ACS880-01 comes with marine type approval from various key classification bodies.
Highlights
Intuitive control panel and PC tool
Direct torque control (DTC) for precise open and closed loop control
Built-in safety features for simplified configuration
Communication with all major automation networks
Removable memory unit for easy drive commissioning and replacement
Energy optimizer and energy efficiency information for monitoring and saving energy
Designed for easy service
Built-in options
Integrated safety including safe torque off (STO) as standard and the optional safety functions module, FSO-11 (TÜV Nord certified)
Supports various motor types including synchronous reluctance motors
Intuitive control panel with USB connection
Removable memory unit for easy maintenance
Primary control program - common software used throughout the ACS880 drive series
Control unit supporting a wide range of fieldbuses, feedback devices and input/output options
Coated boards as standard
Controllable cooling fan
Incoming air temperature measurement for protecing the drive from different temperature related failure mechanisms
Built-in braking chopper, option for frame sizes R5 to R9
Built-in choke