To facilitate our customers' needs in complying with this latest government legislation, Halcyon Drives carry out pre & post harmonic surveys to G5/4-1. Thes surveys are particularly important when carrying out any new installations or adding any additional drives on site that may have a bearing on the total harmonic loading.
Site Surveys
A Site Survey for the purpose of establishing the present levels of Harmonic Distortion can be carried out and would include:
ASSESSMENT OF EXISTING SITE CONDITIONS
To conduct a Harmonic Survey it is necessary to establish the present site conditions. This includes investigation of the supply transformers; establishment of the Point of Common Coupling (PCC); assessment of the single line distribution including pertinent ancillary equipment such as Power Factor Correction equipment; method of connection of the monitoring equipment.
CONNECTION OF MONITORING EQUIPMENT
Site visit to connect the Monitoring Equipment.
DISCONNECTION OF EQUIPMENT
Site visit to disconnect monitoring equipment after a pre-determined monitoring period.
PRODUCE A REPORT OF THE FINDINGS
To include all information required under G5/4, an associated computer program would be used to interpret current site results and predicted harmonic levels will confirm a customer solution to ensure current legislation compliance can be achieved.
At the request of a customer, the charts below show the measurements made to check the levels of distortion prior to the installation of three variable speed drives rated 90KW. The drives will be operated in duty / assist / standby mode.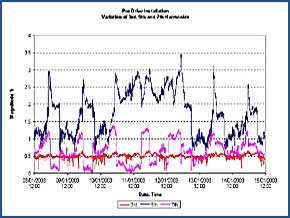 Fig 1 - Click for larger image
Shows the results of an on-site harmonic survey undertaken by Halcyon Drives before the fitting of the three drives.
As a result of the high level of distortion recorded primarily in the 5th harmonic, which would be worsened by the installation & operation of these drives, Halcyon Drives recommended the fitting of a power quality filter manufactured by ABB.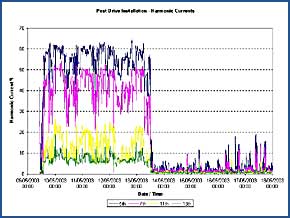 Fig 2 - Click for larger image
Demonstrates the recorded increase in harmonic distortion after the operation of the new drives until the switch-on of the Halcyon Drives supplied power quality filter on the 13 May. The power quality filter significantly reduces the harmonic currents fed into the supply from the drives.