Rotacam 440H Heavy Duty Hinge Safety Switch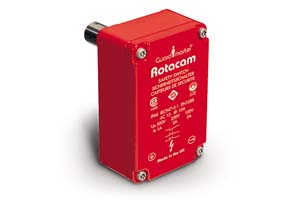 A heavy-duty hinge actuated safety interlock switch, the Rotacam shaft can be used as, or connected to, the existing hinge pin for direct operation of the switch. Machine power is isolated when the guard has been opened just 5°. For applications requiring a larger degree of operation the internal cam can be adjusted from 5° to 11°.
Note: After adjustment, the cam must be secured in position with the supplied cam locking pin to ensure optimalperformance.
The Rotacam from Rockwell Automation Guardmaster™ safety products is available with two N.C. safety contacts and one N.O. auxiliary contact. The switch includes the necessary safety related functions, such as forced guided contacts and a tamper resistant mechanism, allowing machinery to be safeguarded in compliance with the machinery directive.
The die-cast housing is sealed to IP66 and features one M16 conduit entry (Pg11 or 1/2"NPT also available). Two different shaft lengths of 30mm and 85mm can also be specified.
EX and Pneumatic versions of Rotacam are also available.
Features
Can be used as a hinge pin on light and medium weight guard doors
Isolates power within 5° of door movement
Degree of operation can be customized with adjustable cam
Robust die-cast case, ideal for heavy duty applications
Contacts, 2 N.C. & 1 N.O. (sealed to IP66)