Sprite Miniature Hinge Safety Switches 440H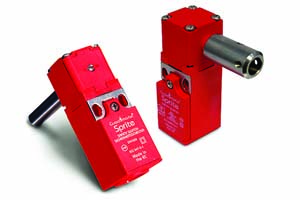 Developed from the highly successful Ensign, Sprite offers the same safety related features in a more compact housing — only 75 X 25 X29mm — making it the smallest interlock currently available. The Sprite has been designed for smaller machines such as printing machines, copiers or domestic machinery which, until now, have been unable use standard safety interlocks due to space restrictions. Despite its diminutive size the Sprite includes the necessary safety related functions, such as forced guided contacts and a tamper resistant mechanism allowing machinery to be safeguarded in compliance with the machinery directive.
The Sprite's shaft is connected to the existing hinge pin and the degree of operation can be adjusted to suit the application via the adjustable cam in the switch head.
Note: After adjustment, the cam must be secured in position with the supplied cam locking pin to ensure optimal performance.
The Sprite is available with one N.C. safety contact in a watertight and dustproof IP67 housing with conduit entry (1 X BS 16mm or 1 X Pg 9). A two-contact (1 N.C. & 1 N.O.) version with break-out cable entries and IP30 ingress protection is also available.
Features
Ideal for small, light weight guards
The smallest hinge interlock switch available, 75 X 25mm case
Degree of operation can customized with adjustable cam
Contacts, 1 N.C. (IP67) or 1 N.C. & 1 N.O. (IP30)
Four possible shaft positions, easy to install
A Rockwell Automation Guardmaster™ safety product.