440H Ensign 3 Hinge Safety Interlock Switches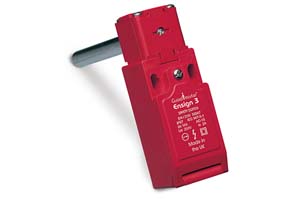 The Ensign from Rockwell Automation Guardmaster™ safety products is a hinge actuated safety interlock switch designed to fit at the hinge point of guards. With its rotatable head, the versatile Ensign offers up to four different mounting options
Operation of the unit is achieved by the hinging action of the guard. The actuation shaft is connected to the existing hinge pin and the degree of operation can be adjusted to suit the application via the adjustable cam in the switch head.
Note: After adjustment, the cam must be secured in position with the supplied cam locking pin to ensure optimal performance.
The switch includes the necessary safety related functions, such as forced guided contacts and a tamper resistant mechanism, allowing machinery to be safeguarded in compliance with the machinery directive.
The Ensign is available with one N.C. safety contact and one N.O. auxiliary contact or two N.C. safety contacts. It is sealed to IP67 and has three conduit entries.
Features
Compact size—106 x 25mm housing
Fits on 25mm tubing, ideal for small, lightweight guards
Degree of operation can be customized with adjustable cam
Contacts, 1 N.C. & 1 N.O. or 2 N.C. (sealed to IP67)
Four possible shaft positions, easy to install