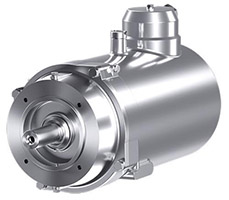 65% of UK power is consumed through electric motors within industry. Ideally motors are manufactured to last up to 20 years. However, in the food and beverage industry this isn't typical due to the nature of challenges this industry faces, leading to costly downtime, repairs or replacements.
Food Safety

Many concerns with food contamination (listeria, salmonella, etc.)

Difficultly keeping equipment clean and contamination free

Process Reliability

Equipment failing too soon due to harsh washdown environments

All materials do not withstand frequent sanitation

Energy Efficiency

How to reduce overall operating costs, and match the sustainability goals?

Electric motors account huge potential to use energy more efficiently. Energy efficiency regulations vary depending on country and region.
ABB have designed a motor that can combat these difficult issues for the food and beverage industry. ABB's answer is the IP69k Stainless steel washdown motor, offering uncompromised hygiene, reliability, and productivity for food and beverage applications.
Why choose a washdown motor?

Food processing environment with frequent sanitation exposes electric motors to many risks
Surface corrosion
bearing failures due to grease washout
electrical failures
A Food safe stainless steel motor can prevent these failures and avoid unwanted interruptions in the process
ABB IEC IP69K Food Safe Motors…
If you would like to know more about the ABB IP69 IEC Food Safe stainless steel motors, you can Contact Us or phone 0113 236 1509.