GuardLogix Safety Controllers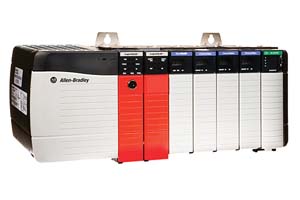 High-speed, high performance multi-discipline control for SIL 3 safety applications from Rockwell Automation Guardmaster™

GuardLogix® Integrated Safety Systems brings together the benefits of a Logix platform — common programming environment, common networks, and common control engine — with integrated safety control in an easy-to-use environment while providing Safety Integrity Level (SIL) 3 control. By partnering with the ControlLogix processor, GuardLogix users can benefit from common programming software, controller and I/O to help reduce development time and application cost.
This design commonality along with using RSLogix 5000 software, provides better information sharing, reduced training costs, faster programming and commissioning. As part of the Rockwell Automation Integrated Architecture, the GuardLogix Safety Controller offers multi-disciplined control across process, discrete, motion, drive and safety applications, as well as seamless connectivity to plant-wide information systems.
Features
Features
Provide safety and integrated motion in the same chassis
Offer TÜV certification for SIL 3 functional safety (controller and safety partner required)
Support Integrated Motion on EtherNet/IP™, integrated Sercos™ motion, and analog motion
Support safety communications via EtherNet/IP, ControlNet™, and DeviceNet™ networks
Support multiple controllers in the same chassis, with each one operating independently
Products
Products
1756 GuardLogix® Safety Controllers, L7 and L6 models
1756 Armor™ GuardLogix On-Machine™ Safety Controller
1756 ControlLogix® Communication Modules
1756 ControlLogix I/O Modules
1732DS ArmorBlock® Guard I/O™ Modules
1791DS/ES CompactBlock™ Guard I/O Modules
POINT Guard I/O Modules
1756 Sercos Interface Motion Modules
1756 ControlLogix Power Supplies
1756 ControlLogix Chassis