MatGuard Safety Mats - 440F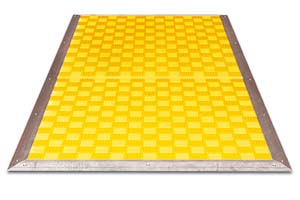 MatGuard™ Safety Mats are pressure-sensitive safeguarding products that we designed to detect the presence of people on the sensing surfaces. These mats have two conductive hardened steel plates that are held apart by non-conductive compressible separators. We offer standard configurable and custom mats, each with edge trim options.
Features
Hardened steel plate construction
No dead spots
4-wire system to detect opens and shorts
Can withstand a static pressure of 4500 psi
IP67 rated
Products
440F MatGuard™ Safety Mats, Standard
Sizes ranging from 500 x 500 mm (19.7 x 19.7 in.) to 1000 x 1800 mm (39.4 x 70.9 in.)
Aluminum standard and cable channel perimeter trim options
440F MatGuard Safety Mats, Configurable
Configure a safety mat and trim kit options to fit your specific needs
Specify custom sizes in 50 mm increments
Select the number, type, and location of cable exits
Select standard and cable channel perimeter trim options
Choose yellow or black mat
440F MatGuard Safety Mats, Custom
Custom sizes and shapes are available
Certifications
CE Marked for all applicable directives, cULus Listed, CSA Z432-04 and TÜV
Certifications apply when product is marked. See our Product Certification site for Declarations of Conformity, certificates and other certification details.
Rockwell Automation Guardmaster™ safety product