MatGuard™ Safety Mat Controllers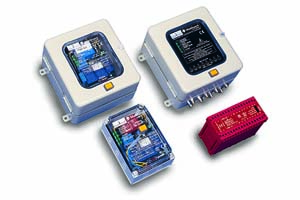 The MatGuard Control Unit monitors all of the mats which are connected together to form a safeguarded zone. The safeguarded zone can be up to a total of 100m2 and made from any number of mats. The controller is designed to interface with the control circuit of the machine and includes two safety relays to ensure control redundancy.
The controller detects a presence on the mat, a short circuit, or an open circuit. Under each of these conditions, the safety output relays turn off. When interfaced properly, the machine or hazardous motion will receive a stop signal, and an auxiliary output relay turns ON.
The controller comes in three different package styles, a plastic case for surface or wall mounting, a steel case for surface or wall mounting and a 35mm DIN rail mounting style. Each style offers many of the same basic features. Each controller accepts power supplies of 24V AC/DC, and 110/230V AC. The plastic and steel-cased styles include reset buttons whereas reset button for the DIN rail mounted style must be supplied separately. The steel-cased controller offers extra protection against inadvertent impacts.
Features
Selectable voltage supply
Auto/manual reset
Four-wire system to detect opens and shorts
Third Party Approval — AMTRI
Rockwell Automation Guardmaster™ safety product