Safedge™ Sensitive Edge Profiles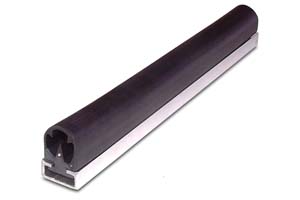 The GuardEdge sensitive edge system is a safety sensor for applications such as power operated doors, guided moving vehicles, and moving machinery beds. It can provide a continuous line of touch sensing along surfaces. Pressure applied to the profile will cause the output relays of the control unit to open. When configured properly, the activation of the edge should result in a signal being sent to the control system to stop, reverse motor driven movement or sound an alarm.
The ability of the GuardEdge profile to out perform competition lies in its innovative design. It uses a combination of nonconductive rubber and flexible wire cored conductive rubber bonded together so it keeps bouncing back into shape even after repeated compressions.
The GuardEdge profiles come in 3 different cushions factors: 5mm (0.2in), 19mm (0.75in) and 41mm (1.6in). Cushion factor is the distance the profile can be depressed after a signal has been generated. The profiles are also offered with a sealing lip which is designed to reduce drafts between the profile and opposing surface.
The profiles come in two different materials. Use the EPDM material in the presence of conductive fluids. The NBR/CR material performs better in the presence of oils. Review the chemical resistance chart to help make the best choice of material. If in doubt, a small sample of the profile should be tested for chemical resistance before a final selection is made.
The GuardEdge profile has no rigid internal parts which can "break through" or cause fatigue failures after prolonged use. The copper wire core throughout the length of the strip insures that there are no problems of resistance build up on long lengths.
Features
Various profiles
Conductive Rubber technology
Up to 50m lengths
Aluminum, plastic or zinc coated steel, mounting rails
Rockwell Automation Guardmaster™ safety product