Safedge™ Sensitive Edge Controllers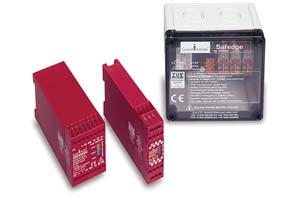 The GuardEdge contollers are designed to operate with the GuardEdge profiles. The controller continuously monitors the profile for actuation and generates an output signal when the profile is depressed.
The GuardEdge controller provides a low voltage to the profile. When the profile is pressed, the controller detects a change in resistance and turns off its output relays. When pressure is released from the profile, the output relays of the controller return to an on state. The controller has two voltage free positively-guided output relays which can be used to interface with a machine control system.
The controller comes capable of operating at 24V AC/DC, or 120/230V AC from separate terminals. An internal switch changes the operating voltage from 120V AC to 230V AC.
An auxiliary output relay is available to provide a signal about the controller's status. Three LEDs indicate whether the controller is in RUN, STOP or OPEN condition. The controller operates in manual or automatic reset mode.
Features
2 N.O. Safety Outputs
1 N.C. Auxiliary Output
24V AC/DC or 120/240V AC
Output Monitoring
LED Indicators for RUN, STOP and OPEN
Automatic/Manual Reset
Rockwell Automation Guardmaster™ safety product