Chris Davis, Technical Services Manager, tells us more: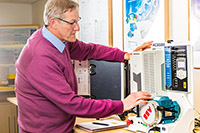 The average life of a variable speed drive (VSD) is around 15 years, but some would take issue with this assertion. There are examples of variable speed drives running perfectly well for 35 years plus, without being touched. Then there are examples of VSD's which have been completely destroyed after 2 or 3 years of service. In both cases it is usually easy to spot why this situation occurs.
Taking the 35-year example first this particular drive is being used to vary the speed of a fan in the production of malt. The Power Drive System is comfortably on top of the job. It is kept cool and clean with regular T.L.C., the best advice to ensure longevity.
A 3-year example is where variable speed drives are operated in a confined space underground. The atmosphere is dry and enriched with salt and diesel fumes. Salt is corrosive and when mixed with soot and moisture from the diesel fumes becomes a very potent combination; not the best place to operate electronic equipment.
A key consideration when applying variable speed drives to a specific task is horses for courses. In the first example above the drive was an IP44 cabinet housing an ABB Sami Star Drive, rated at 75kW. The fan operates at full speed for a short period and then at two thirds speed for about two weeks, to create a 30 tonne batch of malt. The drive gets its T.L.C. through our service contract and is not looking like hanging up its saddle for a few years yet.
The same drive, if used in the second example would need to be 'put down' shortly after the starting gates are opened. In this case a totally enclosed VSD inside an IP67 enclosure would be far more suited. This may involve heat exchangers on the cabinet or alternatively give consideration to a water cooled variable speed drives.
There are several industry specific inverters now available such as crane control, winders, extruders, centrifuge and pump controls. All with a vast array of options and selection tools (drivesize, pump save or fansave) to ensure successful and trouble free operation.
Unfortunately, not all applications can guarantee a long trouble free life for the VSD, but if the correct horse for the course is selected there is every chance that it will be first past the post and give a good return on investment.
Contact us or call 0113 2361509 to speak to our applications engineers who will be able to offer best advice in selecting the correct variable speed drive to ensure you back a winner every time.