Riello UPS Dialog Vision
Power Range: 500 - 1100VA
Phase 1:1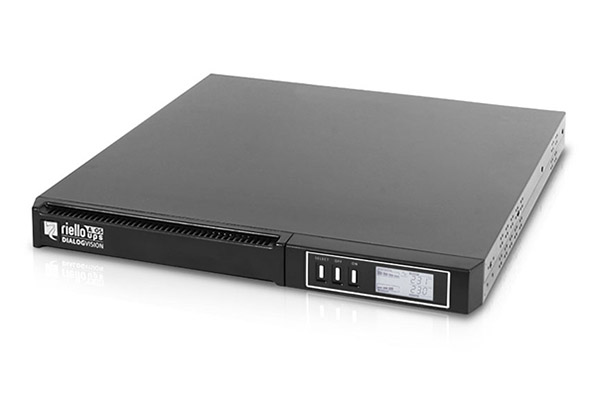 The Riello UPS DIALOG VISION series includes models from 500VA to 1100VA.
The UPS provides a digital sinewave output supply and with its advanced communications and connectivity options, is the ideal solution for the protection of critical loads - floor standing or rackmount servers, network hardware and storage systems.
Riello UPS Dialog Vision models include DVR 500 (500VA), DVR 800 (800VA) and DVR 1100.
Characteristics
VERY HIGH PROTECTION
Within a Dialog Vision, an Automatic Voltage Regulator (AVR) provides voltage stabilisation and protection from brownouts, sag and surge voltages. The AVR also helps to reduce battery usage and retain their charge for a complete mains power supply failure. Electro Magnetic Interference (EMI) filters provide further protection from spikes and transients.
When the mains power supply fails, the load is powered by the inverter and receives a true SINEWAVE supply for maximum power continuity and reliability.
HIGH AVAILABILITY
A Powershare output socket provides load shedding on mains power supply failure to maximise the back-up time available for critical loads.
Predictive battery testing helps to identify potential battery deterioration and failures.
Deep discharge protection helps to reduce overall battery aging.
VERSATILITY
DVR versions include an Emergency Power Off switch for complete electrical shutdown in emergency situations.
The "cold-start" function allows a Dialog Vision to start up on inverter when no mains power or alternative power supply is present.
ADVANCED COMMUNICATION
Advanced, multi-platform communication for all operating systems and network environments: PowerShield³ monitoring and shut-down software included, with SNMP agent, for Windows 8, 7, 2008, Vista, 2003, XP, Linux, Mac OS X, Sun Solaris, Linux, VMWare ESX and other Unix operating systems.
Shutdown and Management Software included
Plug and play
USB port / Serial RS232 port / Communication Slot
2-year warranty