PULS Piano Range - Din Rail Mounted Power Supplies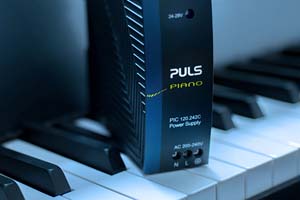 These PIANO series units are extraordinarily compact, industrial grade power supplies that focus on the essential features needed in today's industrial applications. The excellent cost/performance ratio presents many new and exciting opportunities without compromising quality or reliability.
The mechanically robust housing is made of a high-grade, reinforced molded material, which permits the units to be used in surrounding temperatures up to 70°C.
Since typical industrial applications do not require multiple main inputs, the reduction to a regional input voltage range (AC 220-240V) simplifies the circuitry and has significant advantages for reliability, efficiency and cost.
The addition of a DC-OK signal makes the unit suitable for many industry applications such as: process automation and many other critical applications where preventive function monitoring can help to avoid long downtimes.
Output
Range
Power
Input
W x H x D
PIC120.241C
24V
5A
24-28Vdc
120W
200-240Vac
39 x 124 x 124mm
Data sheet
PIC120.241D
24V
5A
24-28Vdc
120W
100-120/ 200-240Vac
39 x 124 x 124mm
Data sheet
PIC120.242C
24V
5A
24-28Vdc
120W
200-240Vac
39 x 124 x 124mm
no DC-OK contact
Data sheet
PIC240.241C
24V
10A
24-28Vdc
240W
200-240Vac
49 x 124 x 124mm
Data sheet
PIC240.241D
24V
10A
24-28Vdc
240W
120-240Vac
49 x 124 x 124mm
Data sheet