Trojan 5 & 6 Universal Tongue Switch 440K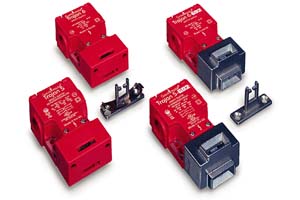 The Rockwell Automation Guardmaster™ safety product Trojan 5 & 6 are universal tongue (or key) actuated safety interlock switches designed to fit at the leading edge of sliding, hinged or lift-off guards. The dual key entry slots and rotatable head, movable only by releasing the cover screws, allow four actuator entry options. The Trojan 5 contains all of the safety related functions — i.e., forced guided contacts, tamper resistant mechanism — allowing the machine to be safeguarded in compliance with the machine directive.
Operation of the switch is achieved through the insertion of a specially profiled stainless steel key that is permanently mounted to the leading edge of the guard door. The Trojan 5 actuator includes a self-ejecting mechanism that prevents operation of the switch if the actuator is not mounted to the guard door (e.g., if the operator uses a spare key).
The Trojan 5 has 2 N.C. safety contacts and 1 N.O. auxiliary contact enabling it to be used as part of a system for higher risk applications. The unit is sealed to IP67 and has three conduit entries available. An optional semi-flexible actuator allows the Trojan 5 to operate on smaller radii doors (>60mm). A catch mechanism is also available as an option for use on vibrating machinery.
EX and Pneumatic versions of the Trojan are also available.
Features
Strong and versatile, can be used in most applications
Available in Standard and GD2 models
Standard model has self-ejecting tamper resistant actuator, only operates when mounted to the guard
Contacts, 1 N.O. & 2 N.C. (sealed to IP67)
Four possible actuator entry points, easy to install
Optional semi-flexible actuator for operation on smaller radii doors (>60 mm)
Optional catch mechanism for use on vibrating machinery
Pneumatic versions of the Trojan are also available
Products
440K Trojan™ 5 Tongue Interlock Switches (5-Pin, 6-Pin)
440K Trojan 6 Tongue Interlock Switches (8-Pin)