GuardShield™ Type 2 Safety Light Curtain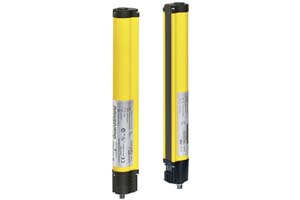 The GuardShield™ Type 2 safety light curtain is designed for use on or around machinery where a formal risk assessment has determined that a Type 2 safety device is of a sufficient level of safety to meet the guarding application. Offered in a 30mm resolution with protective heights from 160mm to 1760mm in 160mm increments, the GuardShield Type 2 provides personnel protection from low risk hazards. Configured from the factory in either a "Guard Only" or "Restart Interlock with EDM (External Device Monitoring)" mode of operation, the GuardShield Type 2 will suit most application configurations requiring a Type 2 opto-electronic device.
Features
Conforms to IEC / EN 61496 Parts 1 & 2, Type 2 ESPE and EN 954-1 Category 2
Two safety solid state and one auxiliary non-safety outputs
Simple installation
High degree of reliability
Type 2 as defined by EN 61496-2: A type 2 ESPE shall have a means of periodic test to reveal a failure to danger.
A Rockwell Automation Guardmaster™ safety product.