SafeZone™ Mini Safety Laser Scanner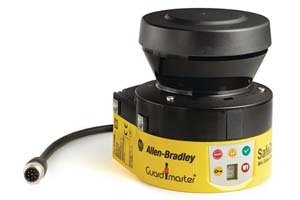 The SafeZone™ Mini safety laser scanner is a Type 3 opto-electronic device, which uses the diffuse reflection of emitted infrared laser light to determine the intrusion of a person or object within a defined area. A rotating deflection mirror periodically emits Class 1 (eye safe) infrared laser pulses over a 270° angular area to create a two dimensional detection field.
The reflected light is processed by the SafeZone Mini, which sends a stop signal by switching the state of its OSSDs, if it is determined that an object is within the preconfigured sensing field.
The SafeZone Mini laser scanner is a versatile, rugged, optoelectronic device in an IP65 housing and is ideally suited for a wide range of industrial applications. The SafeZone Mini has a single configurable safety field and one or two configurable warning fields. The second warning field can be configured through one of the configurable I/Os. A configuration wizard is available to guide the programmer through simple or complex system configurations.
Features
A 270° scanning angle
One safety field and one or two warning fields
Seven-segment diagnostic display, rotatable by 180°
Selectable resolutions of 30, 40, 50, and 70 mm
Configurable I/O
EDM
Second warning field
Reset
Horizontal or vertical mounting
Stationary or mobile applications
Park mode for mobile applications
Class 1 laser (eye safe)
M12 QD integrated 0.3 m (12 in.) cable
Rockwell Automation Guardmaster™ safety product