As an ABB Authorised Value Provider, Halcyon Drives can offer a schedule of Preventative Maintenance in accordance with manufacturers recommendations.
We have access to the ABB Drives Installed Base, which is updated regularly and prompts us when a Variable Speed Drive is scheduled for Preventative Maintenance. With your drives registered on the Drives Installed Base, we can establish where your drives are within ABB's recommended life cycle, and plan for what actions are needed to keep your drives running smoothly.
Regular maintenance allows you to budget for your servicing costs and optimises the life span of your variable speed drive.
Inspections and component replacements are carried out by ABB trained and approved engineers.
Halcyon Drives will only use genuine ABB spare parts, which are selected to match the maintenance recommendations, and are bundled within preventative maintenance kits.
Life Cycle Support
Below is ABB's guide to life cycle servicing. The life span of an ABB variable speed drive can be divided into 4 sections; starting with active, then moving to classic, limited and finally to obsolete. By the time your drive is in its obsolete phase, there is very limited support available and you need to take advice about a drive upgrade.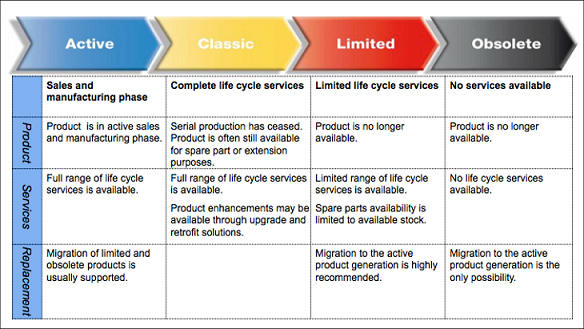 Once you have established where your drives are in their life cycle, you can decide how and when they need servicing, replacing or upgrading.