C - Series Power Supplies - PULS Power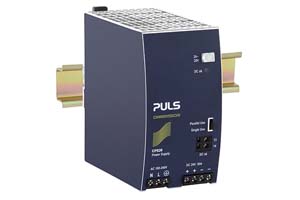 The C-Series power supplies are affordable basic units comprising an alternative to the feature-rich Q-Series. Corners were cut when it comes to a few features, but not in terms of quality, reliability, ease of operation, small overall size and generous power reserves. In this sense, the same standards apply to the C-Series as to all other PULS products. In the 120W class, the C-Series units are even smaller than those of the Q Series and yet are every bit as durable, with a specified life expectancy of the electrolytic capacitor of 50,000 hours.
The guaranteed power boost of +20% of the rated power is intended to ensure optimal adaptation to fluctuating loads. If the ambient temperature remains below 45°C or with forced ventilation, this performance is even specified for continuous loads. Nor were any compromises made when it comes to limiting the inrush current. This unpleasant side effect of switching power supplies was completely eliminated by means of a new circuit.
The single phase units are equipped with automatic 115/230V range switching for increased ease of operation and fault avoidance. For the first time, the units are now available in special regional versions that cover either only the 100-120V or 200-240V ranges. This made it possible to further reduce costs without other disadvantages in regional applications.
C-Series 1-Phase
Output
Range
Power
Input
W x H x D
CP10.121
12V
16A
12-15Vdc
192W
100-240Vac
39 x 124 x 117mm
CP10.241
24V
10A
24-28Vdc
240W
100-240Vac
39 x 124 x 117mm
Data sheet
CP10.241-S1
24V
10A
24-28Vdc
240W
100-240Vac
39 x 124 x 117mm
Data sheet
CP10.242
24V
10A
24-28Vdc
240W
100-240Vac
39 x 124 x 117mm
Data sheet
CP10.481
48V
5A
48-56Vdc
240W
100-240Vac
39 x 124 x 117mm
CPS10.241
24V
10A
24-28Vdc
240W
100-240Vac
39 x 124 x 117mm
Data sheet
CPS20.121
12V
30A
12-15Vdc
450W
100-240Vac
65 x 124 x 127mm
Data sheet
CPS20.241
24V
20A
24-28Vdc
480W
100-240Vac
65 x 124 x 127mm
Data sheet
CPS20.241-C1
24V
20A
24-28Vdc
480W
100-240Vac
65 x 124 x 127mm
Data sheet
CPS20.361
36V
13.3A
36-42Vdc
480W
100-240Vac
65 x 124 x 127mm
Data sheet
CPS20.481
48V
10A
48-56Vdc
480W
100-240Vac
65 x 124 x 127mm
Data sheet
CS3.241
24V
3.3A
24-28Vdc
80W
100-240Vac
32 x 124 x 102mm
Data sheet
CS5.241
24V
5A
24-28Vdc
120W
100-120 / 200-240Vac
32 x 124 x 117mm
Data sheet
CS5.241-C1
24V
5A
24-28Vdc
120W
100-120 / 200-240Vac
32 x 124 x 117mm
Data sheet
CS5.241-S1
24V
5A
24-28Vdc
120W
100-120 / 200-240Vac
32 x 124 x 117mm
Data sheet
CS5.243
24V
5A
24-28Vdc
120W
100-120Vac
32 x 124 x 117mm
Data sheet
CS5.244
24V
5A
24-28Vdc
120W
200-240Vac
32 x 124 x 117mm
Data sheet
CS10.241
24V
10A
24-28Vdc
240W
100-120 / 200-240Vac
60 x 124 x 117mm
Data sheet
CS10.241-S1
24V
10A
24-28Vdc
240W
100-120 / 200-240Vac
60 x 124 x 117mm
Data sheet
CS10.242
24V
10A
24-28Vdc
240W
100-120 / 200-240Vac
60 x 124 x 117mm
Data sheet
CS10.243
24V
10A
24-28Vdc
240W
100-120Vac
60 x 124 x 117mm
Data sheet
CS10.244
24V
10A
24-28Vdc
240W
200-240Vac
60 x 124 x 117mm
Data sheet
CS10.481
48V
5A
48-52Vdc
240W
100-120 / 200-240Vac
60 x 124 x 117mm
Data sheet
C-Series 3-Phase
Output
Range
Power
Input
W x H x D
CT5.121
12V
8A
12-15Vdc
96W
2x 380-480Vac
40 x 124 x 117mm
Data sheet
CT5.241
24V
5A
24-28Vdc
120W
2x 380-480Vac
40 x 124 x 117mm
Data sheet
CT10.241
24V
10A
24-28Vdc
240W
3x 380-480Vac
62 x 124 x 117mm
Data sheet
CT10.481
48V
5A
48-56Vdc
240W
3x 380-480Vac
62 x 124 x 117mm
Data sheet
C-Series DC/DC
Output
Range
Power
Input
W x H x D
CD5.121
12V
8A
12-15Vdc
96W
24Vdc
32 x 124 x 102mm
Data sheet
CD5.241
24V
5A
24-28Vdc
120W
24Vdc
32 x 124 x 102mm
Data sheet
CD5.241-L1
24V
3.8A
24Vdc
92W
24Vdc
32 x 124 x 102mm
Data sheet
CD5.241-S1
24V
5A
24-28Vdc
120W
24Vdc
32 x 124 x 102mm
Data sheet
CD5.242
24V
5A
24-28Vdc
120W
48Vdc
32 x 124 x 102mm
Data sheet
CD5.243
24V
4A
24-28Vdc
96W
12Vdc
32 x 124 x 102mm
Data sheet
CPS20.241-D1
24V
20A
24-28Vdc
480W
110-300Vdc
65 x 124 x 127mm
Data sheet
CPS20.481-D1
48V
10A
48-56Vdc
480W
110-300Vdc
65 x 124 x 127mm
Data sheet