MSR100 Single Function Safety Relays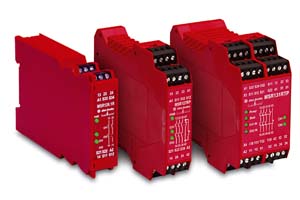 A simple and cost-effective solution for a wide variety of applications, MSR100 single function safety relays support a wide variety of input devices and output configurations. Ideal for relatively small safety applications and single zone control, MSR100 relays are designed in a compact package with removable terminal for ease of installation and maintenance. These relays are also available in electromechanical versions, or solid-state models for applications involving high cycle rates.
MSR9T, MSR30, MSR33, MSR117T, MSR126R/T, MSR127RP/TP, MSR131RP/TP, MSR142RTP, MSR144RTP, MSR38P, MSR138DP, MSR138.1DP, MSR178DP, MSR35, MSR125H/HP, MSR22LM, MSR57P, MSR132EP, MSR132ED
A Rockwell Automation Guardmaster™ safety product.