440T Trapped Key Stopped Motion Unit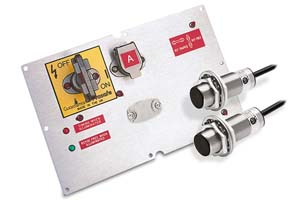 The Rockwell Automation Guardmaster™ safety product - Prosafe™ stopped motion unit (SMU) is used in applications that require the detection of stopped motion of mechanical parts of a machine. The SMU uses inductive proximity sensors to detect motion and the CU2 contol unit to monitor the sensors.
The CU2 requires a PNP and an NPN output type proximity sensors. When the proximity sensors stop detecting movement, the CU2 activates its output, powering an inernal solenoid. With the solenoid energized, one or two trapped keys can be removed from the SMU.
The removable trapped keys (one or two) can be used to continue the next sequence in allowing access to the hazardous area.
See the CU2 control unit for details on setting the delay time. Additional proximity sensors can be found in the Sensors catalog.
Features
Stopped motion detection utilizing proximity sensors.
NPN and PNP proximity sensors
Timed-delay output up to 40 minutes
Category 1 Stop
Replaceable code barrel assembly