440T Trapped Key Solenoid Release Unit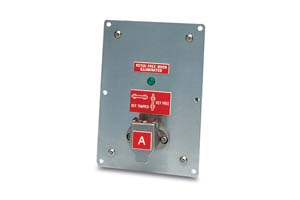 The Rockwell Automation Guardmaster™ safety product - Prosafe™ solenoid release unit is used for electrical isolation of machinery to enable safe access. It consists of a RPS (rotary power switch) and a solenoid. The trapped key can be removed once a signal is given to its internal solenoid locking mechanism. An indicator light on the SRU indicates when trapped key can be removed; that is, when power is applied to the solenoid. The solenoid signal only needs to be present when key removal is necessary. The solenoid is rated for 100% duty cycle. Power to the solenoid can be removed after the trapped key is removed.
Removing the trapped key caused the isolating power switch to change state; the normally open contacts open and the normally closed contacts (if applicable) will close.
The trapped key can then be used in the next sequence of the operation.
Features
Direct drive operation—positively opens contacts
Integral solenoid monitoring
Key trapped until release signal is applied
IP 65 enclosure or panel mounted versions
Replaceable code barrels
LED or NEON 'key free' indication
316L stainless steel construction
24V DC, 110V AC/DC or 230V AC solenoid options
Weatherproof stainless steel dust cap as standard
Conforms to ISOTR 12100, ISO 14119, IEC 947-5-1 and
GS-ET 19
Single or multiple key units available (contact factory)