440T Timed-delay Key Switch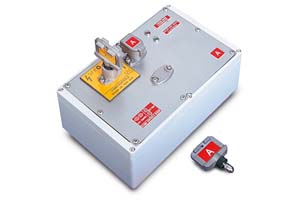 The Rockwell Automation Guardmaster™ safety product - Prosafe™ electronic timed-delay unit (ETU) is used in applications that require an elapsed time to occur before allowing access to a hazardous area. The ETU uses a CU1 control unit timer to execute the timing sequence. Turning a trapped key initiates the timer. When the CU1 times out, its output energizes an internal solenoid, which then allows the removal of either one or two trapped keys.
The trapped keys (one or two) which are removed can be used to continue the next sequence in allowing access to the hazardous area.
See the CU1 control unit for details on setting the delay time.
Features
Timed-delay up to 40 seconds
Single key or dual key
316L stainless steel keys
Category 1 Stop
Replaceable code barrel assembly