440T Access & Chains Trapped Key Switches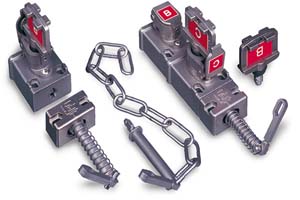 The Rockwell Automation Guardmaster™ safety product - Prosafe™ access interlocks ared designed to allow access to hazardous areas when an appropriate key is inserted into the interlock. These access interlocks are manufactured in 316L stainless steel to provide rugged, industrial grade method of helping prevent access through gates. They are actuated by either a lever or a rod which is connected to chain.
One advantage of the bolt interlocks is that there is no need to run power wires to the gate. Power is disconnected by a trapped key on a control panel and the key is then hand-carried to the gate by the operator.
The single access interlock (SAL and SCL) is designed to be used to access hazardous areas where partial body exposure is required. If two keys are needed for partial body access, select the dual access interlock (DAL or DCL) with both keys trapped.
When whole body access is needed, the DAL or DCL, with one key trapped and one key free should be used. The DAL and DCL allow the operator to carry the key into the hazardous area. When the operator returns from the hazardous area and returns the key to the DAL or DCL, the locking sequence can be reversed and the process restarted.
Features
316 Stainless steel construction
Single and dual key units
Direct drive push/pull operation
Fitted with tamper resistant screws
Stainless steel dust cap as standard