Elf Miniature Tongue Interlock Switches 440K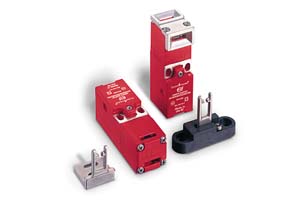 The Elf is a tongue (or key) operated safety interlock switch designed to fit at the leading edge of sliding, hinged or liftoff guards. The Elf's unique miniature housing (only 75 X 25 X 29mm) makes it the smallest interlock currently available. It is designed for smaller machines such as printers, copiers or domestic machinery which, until now, have been unable to use safety interlocks due to space restrictions. With its dual entry slots and rotatable head, the versatile Elf can offer up to eight different actuator entry options. Based on the Cadet design, the Elf contains all of the same safety related features in a more compact housing.
Operation of the switch is achieved through the insertion of a specially profiled stainless steel key that is permanently mounted to the guard door. This semi-flexible key allows the Elf to be used on small radii doors (150mm or 5.9in).
The Elf is available with 1 N.C. safety contact and conduit entry (1 X M16 or 1 X Pg 9) sealed to IP67 (watertight and dustproof) or in a 2 contact version, 1 N.O. and 1 N.C., with break out cable entries and IP30 ingress protection. A blanking plug is supplied for the unused key entry
Features
Miniature housing is only 75 x 25 x 29 mm (2.95 x 0.98 x 1.14 in.)
Ideal for small, lightweight guards
Contacts, 2 N.C. or 1 N.O. and 1 N.C.
Eight possible actuator entry points, easy to install
Environmental protection: IP67
GD2 style available for demanding applications
A Rockwell Automation Guardmaster™ safety product.