440N Ferrogard Non-Contact Safety Switches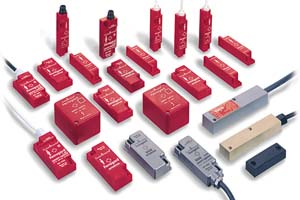 The Allen Bradley Guardmaster™ Ferrogard range of magnetically actuated safety switches from Rockwell Automation offers non-contact reliability together with tolerance to misalignment. They are designed to be installed so that when a guard door is opened, the action of the magnetic actuator being removed from the switch opens the N.C. safety contacts which are intended for the isolation of control power to a machine primary control element.
The FRS1, FRS2, FRS20 and FRS21 are rectangular housings. Sealed to IP67 (NEMA 6P), these Ferrogards are ideal for wet environments.
The FRS3, FRS4 and FRS5 have terminal connections. The user must drill a hole in a convenient location to allow the wiring to enter the housing. The cover is secured with anti-tamper security screws.
The FRS6, FRS9 and FRS10 sensors and actuators incorporate slim housings to accommodate narrow mounting areas. They are environmentally sealed to IP67 (NEMA 6P), which makes them also ideal for wet environments. These Ferrogard switches have two active sensing faces allowing more flexible mounting options.
The GD2, GS1 and GS2 are housed in stainless steel or brass enclosures for heavy duty applications. The GS2 housing is an Ex-style for hazardous locations.
Features
Non-contact actuation
High tolerance to misalignment
High switching current
Plastic, brass or stainless steel housings
Cable, quick disconnect or terminal connection options