Light Curtain Corner Mirrors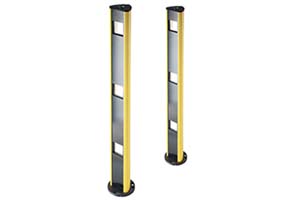 Enhance Mounting Flexibility and Achieve Cost-Effective Machine Guarding

Designed to work with all Rockwell Automation Guardmaster™ safety light curtains, corner mirrors allow the infrared light from the light curtain's transmitter to be "bent" around a 90° corner and seen by the light curtain's receiver. This allows multi-sided protection, thereby reducing the number of safety light curtains required in a machine guarding application.
These new accessories are offered in 11 heights and in 75mm and 125mm widths.
The narrow (75mm) corner mirror is designed for applications where the perimeter of the guarded area is 4 meters or less.
The wide (125mm) corner mirror is designed for use in applications where the perimeter of the guarded area ranges from 4 meters to 15 meters.
Constructed of rear surface glass fixed in extruded anodized aluminum housings with protective rubber bumper sides and nylon end caps, Rockwell Automation Safety
Products
Guardmaster corner mirrors are a versatile, cost-effective and rugged solution for a wide range of industrial safety applications.

Applications
Point of Operation machine hazard guarding: Allows one, two or three sided protection depending upon the number of mirrors used.
Perimeter guarding of robotic work cells, rotary tables, etc: Multiple sided access detection using POC or PAC safety light curtains.