Guardmaster® SafeZone™ Multizone Safety Scanner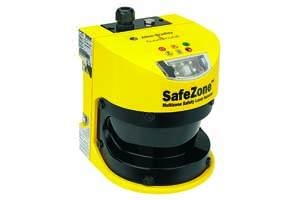 The SafeZone Multizone safety laser scanner is a Type 3 opto-electronic device that protects personnel or equipment by detecting objects or persons in its sensing field. Operating on the "time of flight" principle, the SafeZone Multizone emits pulses of eye-safe infrared laser light over a 190-degree arc, then receives and processes the light reflected off of intrusions in the sensing field to determine the position and distance to the object. When an object is detected, the SafeZone Multizone sends a stop signal to the protected machine.
In addition to increased safety, the SafeZone Multizone also provides enhanced flexibility thanks its two pairs of configurable detection zones, each with warning and safety zones that can be customized within the maximum scanning range to suit the application. Configuration of these zones is quick and easy through the use of the Windows®-based SCD software supplied with each SafeZone Multizone. The "safety field" is configurable for a five-meter range over 190°, while the "warning field" can be set for up to a 49 meter radius (dependent upon the object's reflectivity). Plus, the SafeZone Multizone is certified for both vertical and horizontal guarding applications and offers configurable resolutions (of 30mm, 40mm, 50mm, 70mm and 150mm) that allow a wide range of detection configurations for both stationary and mobile applications. That means the SafeZone Multizone addresses the full range of point of operation, area guarding or access detection applications on the plant floor.
The SafeZone Multizone also reduces downtime by simplifying maintenance and troubleshooting. It has a dual-function ADO (Application Diagnostic Output) that can be used for OSSD status and/or a weak signal indication, which could be caused by a dirty front window. The front window of the scanner is also field replaceable should it become damaged or scratched. For further ease of troubleshooting, the SafeZone Multizone also features a 7-segment display along with several LEDs for quick and easy diagnosis of the device's operational status or fault condition.
Features
190° scanning angle
Two pairs of configurable field sets
7 segment diagnostic display
Configurable resolutions 30, 40, 50, 70 and 150mm
Integrated EDM
Rockwell Automation Guardmaster™ safety product