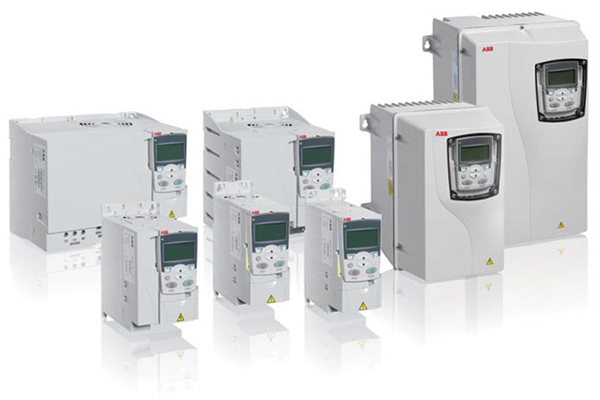 Power range:
0.37 to 22 kW / 0.5 to 30 hp
Supply voltage:
200 - 480 V
The ACS355 variable speed drive from ABB is designed for system integrator, original equipment manufacturer or panel builder and is ABB's top tier micro drive. It is focused on material handling, food and beverage applications, processing of rubber, plastic and wood. You have a cost effective, versatile drive designed to be the fastest variable speed drive in terms of installation, setting parameters and commissioning.
The ACS355 ABB drive has been made as user-friendly as possible, yet providing high intelligence. The drive offers diverse functionality to cater for the most demanding needs.
Key Features
The key features of the ACS355 general machinery drive are :-
Feature
Advantage
Benefit
Broadest power range in its class from 0.37 to 22 kW
Drive series covers all the typical needs of machine builders with a single family of machinery drive.
Cost savings as machine builders need to choose only one drive series.
Exceptionally compact drives and uniform design
Drive has the highest power density in its class at 2.8 kW/dm3. All frame sizes share the same depth and height facilitating multiple drive solutions and cabinet installations.
Space savings in restricted spaces.
Safe Torque-Off function (SIL3) as standard
Built-in and certified function that is used for prevention of an unexpected start-up and other stopping related functions.
Reduces the need for external safety components.
Helps machine builders to fulfill the requirements of Machinery Directive 2006/42/EC.
Sequence programming
Simple drive control logic, with up to eight pre-set sequences of operations, is created in minutes with built-in sequence programming.
Reduces the need for external PLC components.
Application macros and control panel's assistants
Pre-defined I/O configurations containing macros such as 3-wire, PID-control and motor potentiometer macro. Different assistants help set parameters for different functions such as drive start-up, motor set-up or PID control.
Enables quick commissioning of a drive.
FlashDrop tool
A pre-defined machine parameter set, from selection of up to 20, can be downloaded in seconds to a drive without powering the drive.
The FlashDrop tool is easy to use and no specialized drives knowledge is required.
Fast, easy and reliable pre-configuration of drives for high-volume machine builders.
Speed compensated stop
A feature for applications that require precision stopping that is independent of variations in process speed.
Improved production flow and cost saving of a built-in feature.
Product variant for demanding environments with IP66/67/UL Type 4X protection classes
No need to design special enclosure for application that requires a high ingress protection. NSF certified.
Time and cost savings.
Sensorless vector control
Accurate motor control without a feedback device.
Cost saving of a reduced component.